Demon Angel SAKURA vol.3 -The Gate of Passport-
Please update to the latest version of DirectX if you encounter display issues. An issue regarding "character flicker" in scenes with full animation (shop, etc.) has been reported several times, which is resolved by updating DirectX.
DirectX DownLoad
| | |
| --- | --- |
| Character voice | Yuka Kanematsu,Haruna Kirishima, Ino Sakura,Nozomu Nanase, Yum Akatsuki, Hiyori Usami |
| Music | Kate |
| Sound effects | Codama Production/Taira Komori/otonomori |
| Graphics | Aki,Umeazuki,Tomi,Nunosuke,Yoshio |
| Planning, story, script, etc | Aki |
This title features around 30 smaller monsters! All of these have their own erotic scenes.
Features new mechanics such as shops and items as well as status effects.
In addition to preying scenes, there are various other kinds of erotic scenes.
Even if you haven't played the series up until now, you can still enjoy this game by reading the "synopsis" section.
* This title differs from the two previous titles, which were focused on boss battles.
* You can play only on Windows.


 日本語(Japanese) | English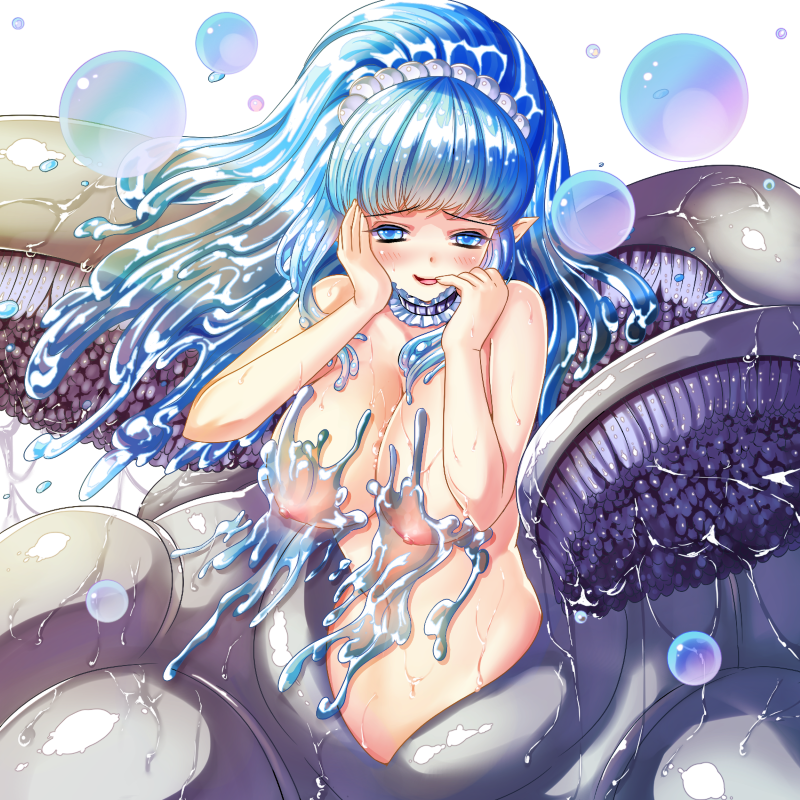 | | |
| --- | --- |
| | A guardian aligned with water created by the "Water Spirit". |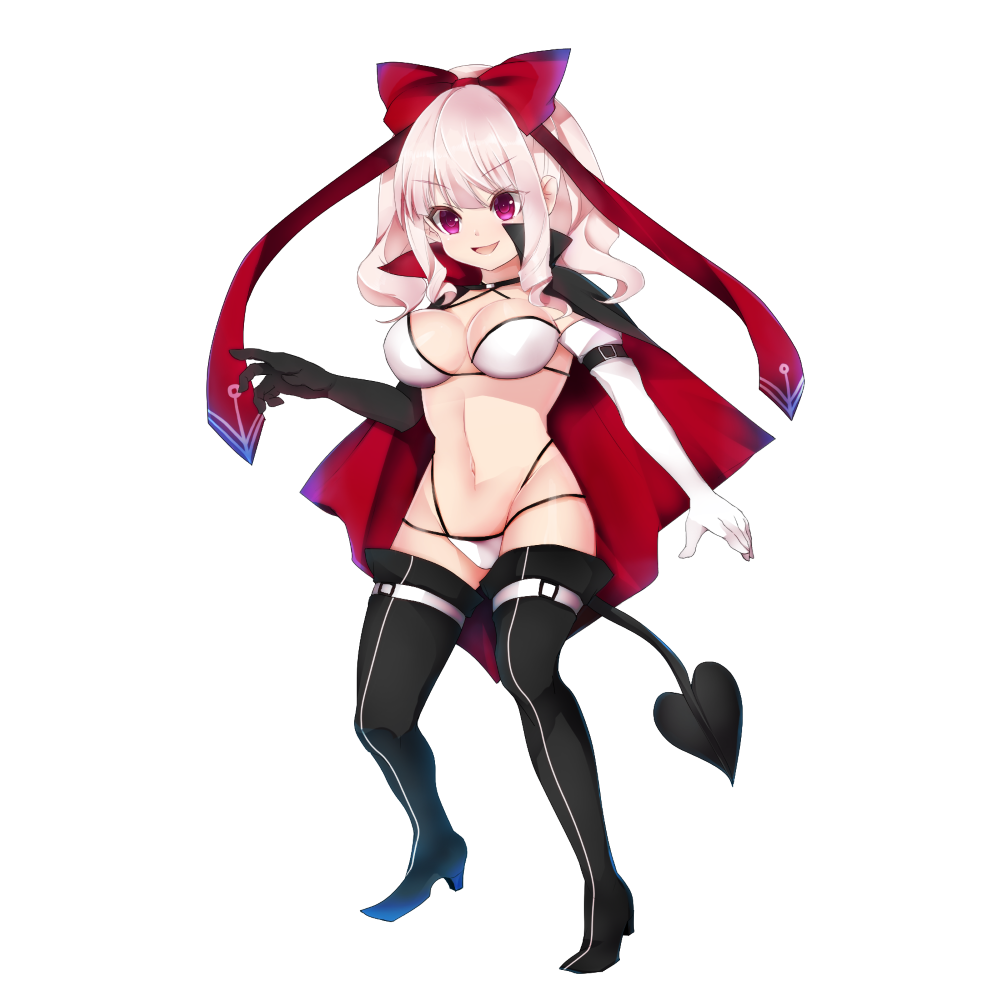 | | |
| --- | --- |
| | This girl is called the "devil" by a number of people. Who is she really...? |
Sakura, Kuroha, Kazari
Graphics: Nunosuke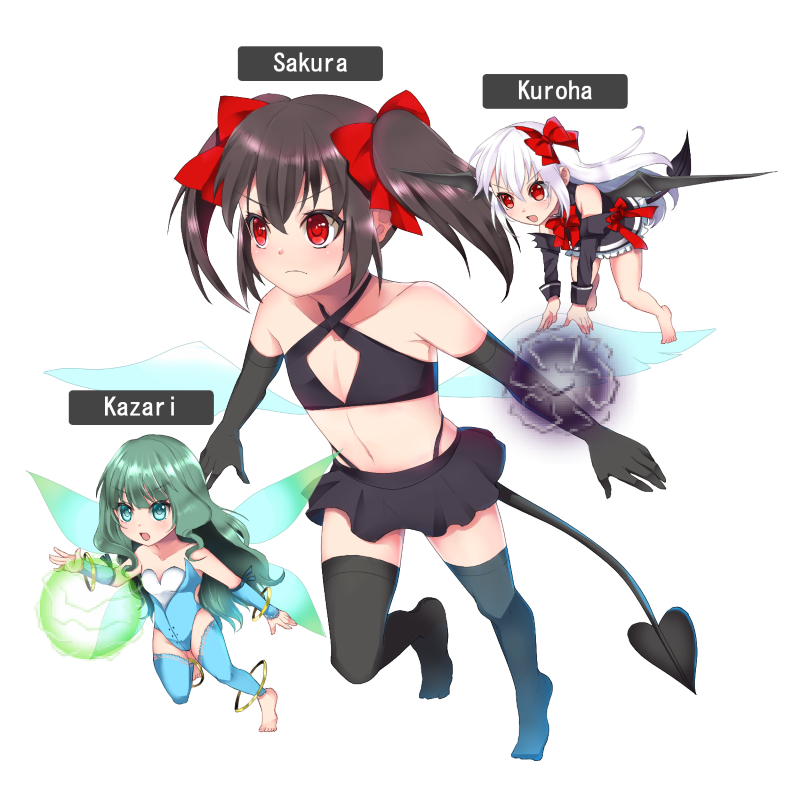 [Sakura]
There is a boy who has the characteristics of both an angel and a demon. He is the only angel in existence who is unaffected by the Hell Element. Although he used to live in Heaven, he traveled to Hell on the order of Anastasia, the queen of Heaven. During his journey events happened that prevented him from returning to Heaven. Although he is capable of using both Divine Arts and Demonic Arts, he rarely uses Divine Arts anymore.

[Kuroha]
Sort of a sister to Sakura. She is actually a reflection of Sakura created by the forbidden mirror. She has a dominant personality. She assists Sakura in battle. Her true body exists within Sakura's heart. Her physical form is maintained by Sakura's arts, and she cannot maintain her presence if Sakura is asleep, unconscious or exhausted. When this happens she retreats to the flipside of Sakura's heart, and Sakura is unable to communicate with her anymore.

[Kazari]
A wind spirit living in Heaven (actually, she is a being created by wind spirits). She traveled to Hell in order to rescue Sakura, who never did return from his journey there. As the Hell Element eroded her mind and she was on the brink of disappearing, she was reunited with Sakura. Kazari knew she was on the verge of death, so she asked Sakura to absorb her and join her with his soul.
These are some of the small enemies you will encounter. This is only a small selection.
[Flying Squirrel]
It sticks to walls to observe its prey and can glide through the air. It swoops down on its victims and sucks out their spirit.
[Lizard woman]
It rapidly walks across the ground in a crawling manner. When it finds prey, it will attack by jumping up using its tail.
[Spider woman]
It creates spider webbing from its rear. When you touch a strand, your ability to move will be taken away.
[Flower]
It spreads pollen with hypnotic properties. Victims who inhale the pollen will approach the monster of their own accord, and are then eaten.
From purchase site, please re-download.
After extracting the downloaded file, Please put the "global.dat" file in the "save" folder of the folder containing the game exe file. If there is no "save" folder, please create it.
2023/4/30 ver3.0.0.1(both PC and Android)

Compatibility with Android 13 and above
Changes to the key configuration
Added the "Unlock All Extra" function at the top of the settings screen
Added the key configuration function to the settings screen
Re-recorded the voices of Kuroha and Kazari
Reduced memory usage
Reduced app size
Changed the screen size to wide-screen
Improved operability
Various other minor fixes.

2016/11/17 ver1.0.2.0(both PC and Android)

improved processing speed
changed frequency of orbs and shop item prices
added "detect board" map check item to shop

2016/05/30 ver1.0.1.3(Android version)

"Extra all unlock" feature included.

2016/01/31 ver1.0.1.1(PC version)

Processing speed was up. From purchase site, please re-download.

2015/09/18 ver1.0.1.0(PC version)

Released.
* Regarding DirectX
Please update to the latest version of DirectX if you encounter display issues. An issue regarding "character flicker" in scenes with full animation (shop, etc.) has been reported several times, which is resolved by updating DirectX.
DirectX DownLoad