Domination Quest -Kuro & the Naughty Monster Girls-

PC version: DLSite Itch Indiegala Eroges
Android version: DLSite
Graphics

Anchors, HEO, M@:RIO, X TIA, Koniro, Nunosuke, Yuto Hoshino, Muroku, Moyashi Udon, Aki Kokageno

Pixel Art

Pipoya, Un Almacen

Planning and Production

Aki Kokageno

Supported OS

[Windows] 7 / 8 / 8.1 / 10 [Android] 5.0 or later

Language

Japanese / English


This is an RPG to take wild monster girls into your party on your adventure.

The protagonist, Kuro, is a boy of a rare race called "Dominator" that has the power to control monster girls.

He had lived peacefully with an albino succubus girl named Shiro in a house deep in a forest, but one day that lifestyle had to end, necessitated to set out on a journey as an adventurer.

There are more than 28 species of monster girls with over 80 H scenes, including teasing with fluffy tails, oppression by huge bodies, vore and so on, which are peculiar to monster girls.

Every monster girl in your party has animated walking sprites and at least 2 H scenes.

Even in battles, Kuro is squeezed of cum by his ally monster girls. Your ally monster girls lose a certain amount of their "Stamina" every turn so he has to "Ejaculate" in order to refill their stamina before they run out of it and become unable to fight.

Some enemies have "restraining attacks". Each restraining attack has its unique H scene which is triggered upon a gameover while he is retrained.

There are a variety of game features. For example: unique passive skills activated with higher "Trust" with allies, "Gem Combining System"(crafting weapons), a mini game like an obstacle race etc.

"Domination Quest -Kuro & the Naughty Monster Girls-" is a quarter-view orthodox RPG supporting keyboard, gamepad and mouse input.

* The maps are rendered in 3D. Requires a PC adequate for 3D games.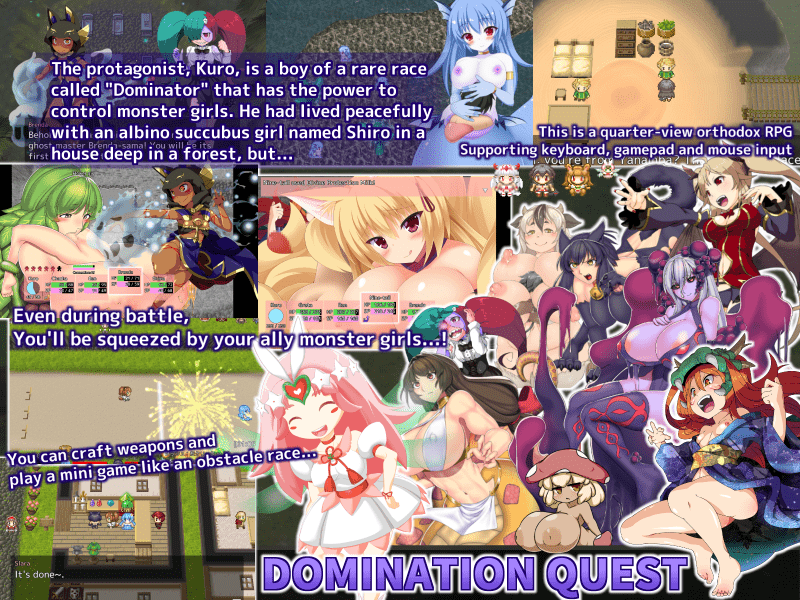 ---
---
Memories room 100% unlock data
* As of version 1.30, you can unlock the entire recollection gallery from the Etc button on the title screen. Finished downloading the recollection gallery file from the homepage.


Update History
You can re-download the latest version of the game via the website you purchased it from. To transfer your save data, copy the ""save"" folder (located in the same directory as the game's .exe file) from the old version's folder and paste it into the new version's folder.

ver1.66

Fixed a bug that crashes on some models.
Fixed a bug where selecting some characters in the Memories Room would cause the player to become inoperable.
Fixed some other bugs.

ver1.49

Supports movement with WASD keys.
Implemented auto-battle function.
Fixed a bug that can not be installed on Android 12 or higher.
Fixed various other bugs.

ver1.46

The size of enemies is now displayed.
Fixed various other bugs.

ver1.45

Added a new item, the "Fairy Wings". It allows you to escape from dungeons.
Fixed various other bugs.

ver1.44

ver1.43

To increase processing speed.
Fixed various other bugs.

ver1.42

Fixed an issue where selecting Kuro in the menu screen would bring up items or other things.
Fixed issues with the Karissa Lighthouse map.

ver1.41

Improved graphics quality of touching animations
Added a "give up" option to the race minigame
Fixed various other bugs

ver1.40

Fixed an issue of not being able to connect to the internet in the android version
Fixed an issue of being unable to move the map cursor in the android demo version
Added the option to show Kuro as a silhouette when using the skill "Domination"

ver1.39(Android only)

Fixed a bug caused by screen aspect ratio difference

ver1.38

Fixed an issue with healing skills not having any effect when used from the menu
Fixed various other bugs

ver1.37

Added the ability to toggle the UI during H scenes
You can hide the UI by either clicking the X button in the lower right corner of the screen, or by pressing the D key.
Added a new item that lowers the enemy encounter rate, the "Doll of Coercion"
It is sold in several towns.
Change the backlog display button from up-arrow key to E key
The SP restoration item "Maximum Egg" is now sold in several towns
You can now reset your selection during combat with the X key as well as the Backspace key
Rebalanced movement speed
Rebalanced encounter rates
Fixed mosaics
Improved some visuals
Fixed an issue that caused the first four allies to disappear after watching the Captured end from the menu
Fixed an issue that prevented the token exchange menu to not open

ver1.36

(PC version)Added "Back up to server" function. With this, you can send and receive save data to Android version.
Some bug fixes.

ver1.35(Android only)

Fixed a bug that the screen does not respond after staff roll.
Fixed a bug that the fox may not be displayed in Bamboo Thicket of Illusion.

ver1.33(Android only)

Published Android version.

ver1.31

ver1.30

Added an extra post-game dungeon.
Added a new L size character.
Added a full unlock option for the memories room as well as a button for opening the Web Manual.
Fixed an issue where modifiers for fire element area of effect attacks would not work.
Fixed an issue that could change the "Back" button in shops into a "Sell" button.
Fixed a bug in the display of bridge and water at the reception of the race.
Fixed display bug when item acquisition effect and character graphics overlapped.
Some other bug fixes.

ver1.22

Fixed an issue with bridges and rivers prior to starting a race.
Fixed an issue where the item acquisition effect and the character overlapped.
Past versions
ver1.21
You can now trade multiple items at once.
Removed the Unity logo shown after launching the game.
Fixed being able to buy items when you already have 99 of them.
Fixed an issue where the Chain Hip Attack only hit once.
Fixed an issue that could prevent the race exchange menu from opening.
Fixed an issue that would prevent Kuro's skill tooltip from being shown.
Some other bug fixes.
ver1.20
Fixed the skill "Francisca" not showing its animation.
Fixed the description of the "Maddening Evil Eye" skill.
Some other bug fixes.
ver1.19
Improved the speed of the load screen directly after launching the game.
Improved a situation where the load screen could crash the game if opened directly after launching the game and not enough video memory was available.
Decreased video memory usage. Improved several situations that could cause the game to freeze or crash.
Fixed an issue with A Gems that could cause the elemental buffs to stop working.
Balance adjustments (fixed the Ghost Girl's evasion versus single-target attacks, fixed the amount of gold earned after battles, fixed the Laser Gun's failure rate).
Some other bug fixes.
ver1.18
The RAM usage has been greatly reduced of skinship animations.
Some other bug fixes.
ver1.17
Fixed a bug that walking on the water in the second map of the river, on the water dragon's island.
Some other bug fixes.
ver1.16
The RAM usage has been greatly reduced so that the game is now less likely to crash.
A new function to check the availablity of and download a newer version has been included.
ver1.15
Fixed a bug that Dominate does not work for "Carnivorous plant girl".
Fixed a bug that D-Gem's defensive effect against Status Effects does not appear.
ver1.14
Fixed to be in a party when loading data that defeated Water dragon girl, Giant worm girl.
Fixed a bug that the application crashes after the second race.
ver1.13
Fixed a bug that progress stopped when going out from the entrance of the Goblin Lair.
Fixed a bug in the bias of Natura Woods' monster's appearance rate.
ver1.12
Fixed a bug that "Water dragon girl" and "Giant worm girl" did not join the party.
ver1.11
Fixed a bug that the passage of "Western Forest" could not be passed.
ver1.10
---
ver1.05
The title has changed ("01" has been removed).
Kuro's mana recovery system has been changed (recovers while walking)
Minor corrections
ver1.04
Added Gem Combining System (can be performed at "Synthesis Crystal" situated on a counter of a general store in Yananba village).
Adjusted parameters of charasters.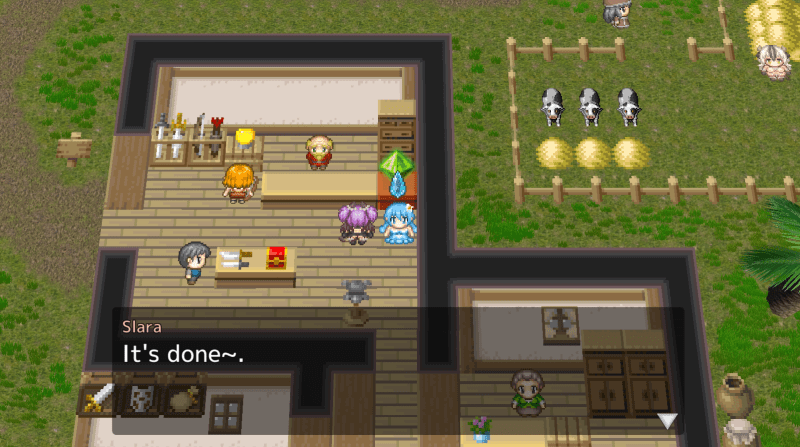 ver1.03
Revised text formatting.
Improved memory use efficiency.
Reduced video stutter and image flickering.
ver1.02
Additional text added to H scenes.
* Almost all of the H scenes have additional content. If you have already completed the previous version, then after downloading this one, you can watch the changes via the "Memories Room". The save data from the previous version can be carried over. It is located in the save folder found in the game's main directory.
Fixed a bug where the language button on the title screen could not be clicked. (Please make sure to click it with your mouse.)
Optimized memory use and added a few other small improvements.
ver1.01
Can now play the game using only the mouse.
When a message is being displayed, rolling the mouse wheel upwards will now display the message history window.
ver1.00
Released the demo version