Domination Quest -Kuro & the Naughty Monster Girls-

PC version: DLSite Itch Indiegala Eroges
Android version: DLSite
Graphics

Anchors, HEO, M@:RIO, X TIA, Koniro, Nunosuke, Yuto Hoshino, Muroku, Moyashi Udon, Aki Kokageno

Pixel Art

Pipoya, Un Almacen

Planning and Production

Aki Kokageno

Supported OS

[Windows] 7 / 8 / 8.1 / 10 [Android] 5.0 or later

Language

Japanese / English


This is an RPG to take wild monster girls into your party on your adventure.

The protagonist, Kuro, is a boy of a rare race called "Dominator" that has the power to control monster girls.

He had lived peacefully with an albino succubus girl named Shiro in a house deep in a forest, but one day that lifestyle had to end, necessitated to set out on a journey as an adventurer.

There are more than 28 species of monster girls with over 80 H scenes, including teasing with fluffy tails, oppression by huge bodies, vore and so on, which are peculiar to monster girls.

Every monster girl in your party has animated walking sprites and at least 2 H scenes.

Even in battles, Kuro is squeezed of cum by his ally monster girls. Your ally monster girls lose a certain amount of their "Stamina" every turn so he has to "Ejaculate" in order to refill their stamina before they run out of it and become unable to fight.

Some enemies have "restraining attacks". Each restraining attack has its unique H scene which is triggered upon a gameover while he is retrained.

There are a variety of game features. For example: unique passive skills activated with higher "Trust" with allies, "Gem Combining System"(crafting weapons), a mini game like an obstacle race etc.

"Domination Quest -Kuro & the Naughty Monster Girls-" is a quarter-view orthodox RPG supporting keyboard, gamepad and mouse input.

* The maps are rendered in 3D. Requires a PC adequate for 3D games.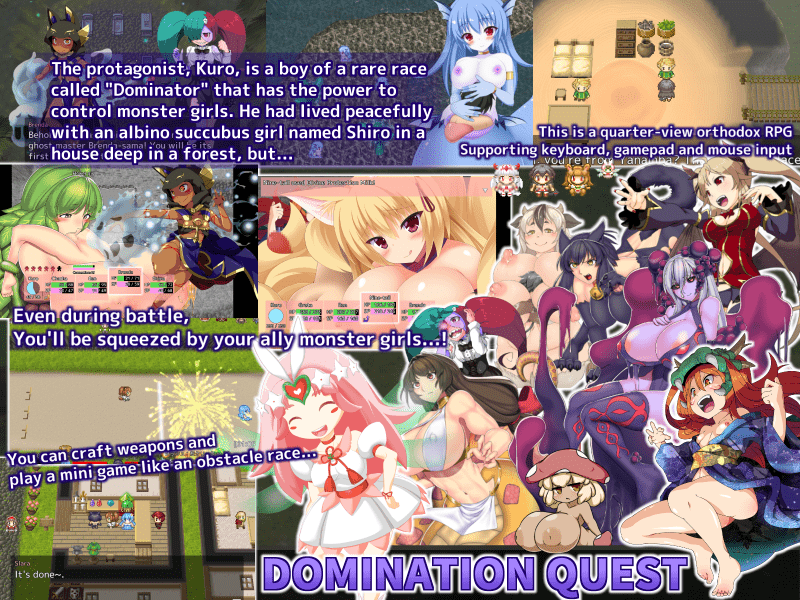 ---
---
Main Characters
[Kuro]
The protagonist of this story. A boy of a rare race called Dominator that has the power to control monsters. He doesn't know anything about this yet...
[Shiro]
A rare albino succubus. She lived peacefully with Kuro in a house deep in the forest, but one day that lifestyle had to end.
[Yui]
A fairy with the power to create connections. She lives in the same forest as Kuro and Shiro, but frequently visits human cities so she is knowledgeable about current happenings.
[Chacha]
Normally a well-behaved rabbit girl, but she has a strong libido, and went too far one day, accidentally killing a human male. There's an elimination request for her at the adventurer's guild.